Trustee Karen Barnes is our representative. She may be reached at 302 363-3947 or by email: karenbarnes59@gmail.com. Click on logo to check out the website

For Information about DLSM News and Fundraisers, contact any Trustee or

Send us your email address!
Visit our FACEBOOK Pages: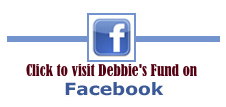 RECENT MEMORIAL NEWS

We held a Designer BINGO at the American Legion Post #2 in Dover, on Sunday, March 16. Juanita Yager and Lydia Regan ran the event. Thanks to the Legion for their help!
Designer Bag Bingo Night at the Camden Moose Dec. 6. Thanks to Mr. Tony Consolazio of the Moose and Gale Reed for the help!
Quarter Auction - Nov. 14 at the Milford Skating Center - Thanks to Trustee Carmen Kemper.
* Designer BINGO Night *, Saturday, May 4 at the Milford Elks Lodge. We had 54 players. Thanks to Hope Caldwell for managing the event.
MEET & GREET "TEA" held April 12 at Brick Hotel in Georgetown, DE.

To See Older Memorial News Click Here. **

NEW DEBBIE'S FUND T-SHIRTS ARE AVAILABLE!

The white Tees with DLSM logo and paw tracks on the front. $10 each! To order: Call or email us!

PLEASE HELP DEBBIE'S FUND GROW!

Donations to Debbie's Fund are 100% Tax Deductible!